A Step-by-Step Guide to Growing Delicious Strawberries at Home in India
Save Earth Life
Did you know that Strawberries are the first fruit to ripen in the spring season and the foremost ripen strawberries are the sweetest? Yes, the strawberries we get at the onset of the spring season are the sweetest and most delicious. Therefore, to get the sweetest strawberries you need to sow them in the month of March or April. And, in this blog, we are going to guide you on how to grow strawberries at home in India.
It is really difficult to grow strawberries at home, but with some specific temperature requirements and climatic conditions, it will be easy for you to grow strawberries. If you follow our instructions, you can definitely grow strawberries at home. In this article, we have given you complete information regarding growing strawberries at home. Read the full blog and grow strawberries in your garden this season.
The Strawberry Growing Season in India
Generally, the strawberry growing season in India lies between March and April and they fruit & flower in the month of October to November during the spring. Due to advancements in technology and growth hormones, strawberry fruit season in India starts from the onset of June. It is also stated that different types of strawberries grow in different seasons and they require specific temperatures, climates and sun exposure to grow. The June-bearing strawberries are generally harvested in the month of June or early July.
Where is Strawberry Grown in India?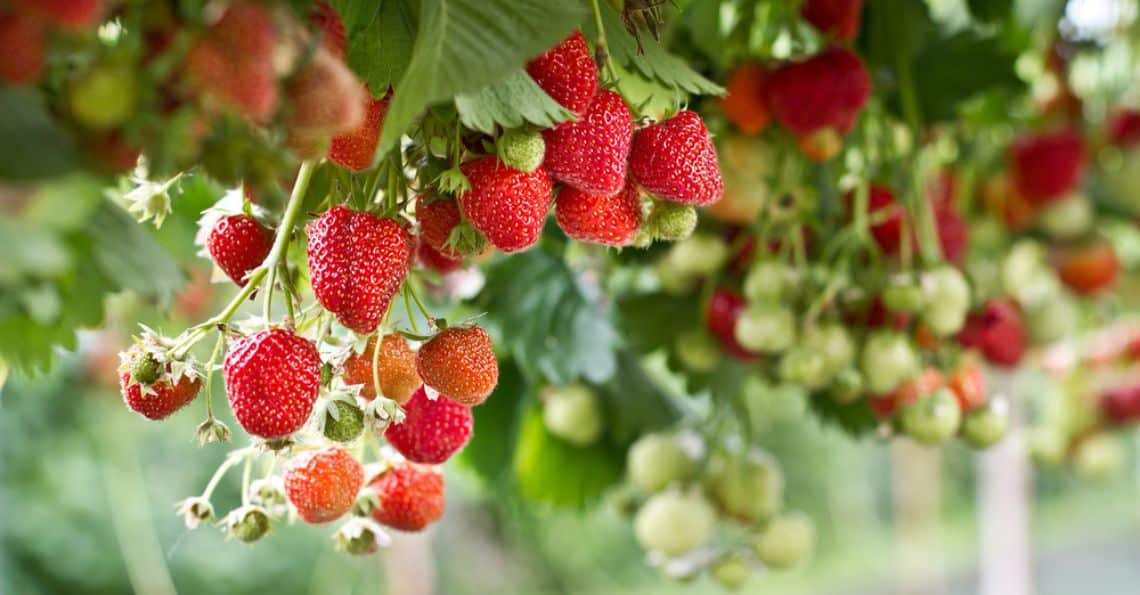 Strawberries are widely grown in the western part of India including Himachal Pradesh, West Bengal, Delhi, Haryana, Uttar Pradesh, Maharashtra, Punjab and Rajasthan. Through some specific modifications, some strawberries are also grown in Jammu. A large amount of Strawberries is grown in Mahabaleshwar and it is known as the strawberry capital of India. The red soil and the climatic conditions make it perfect for growing strawberries in Mahabaleshwar. According to India Agronet, Mahabaleshwar produces 85% of strawberries of the total production which is exported to other parts of the country as well as outside India.
Requirements to Grow Strawberries at Home in India
Strawberry is a special plant and it requires a specific amount of sunlight, temperature and water to grow. If you see the big picture, growing strawberries are very profitable in the long run. The Government of India (GOI) gives a good profit to the farmers for growing and selling strawberries. The strawberries are also exported to the outer part of India Like Malaysia and other nearby countries. In 2022, the demand for strawberries increased in Bangalore and some parts of New Delhi. Here, we have mentioned the requirements of the Strawberry plant in detail.
Well-drained medium-loam soil with lots of organic matter is ideal for strawberry growth. Also, strawberry requires slightly acidic soil with a PH range between 5.7 and 6.5 which is highly preferred. Runner formation of the strawberries' stem often works best in light & organically rich soil.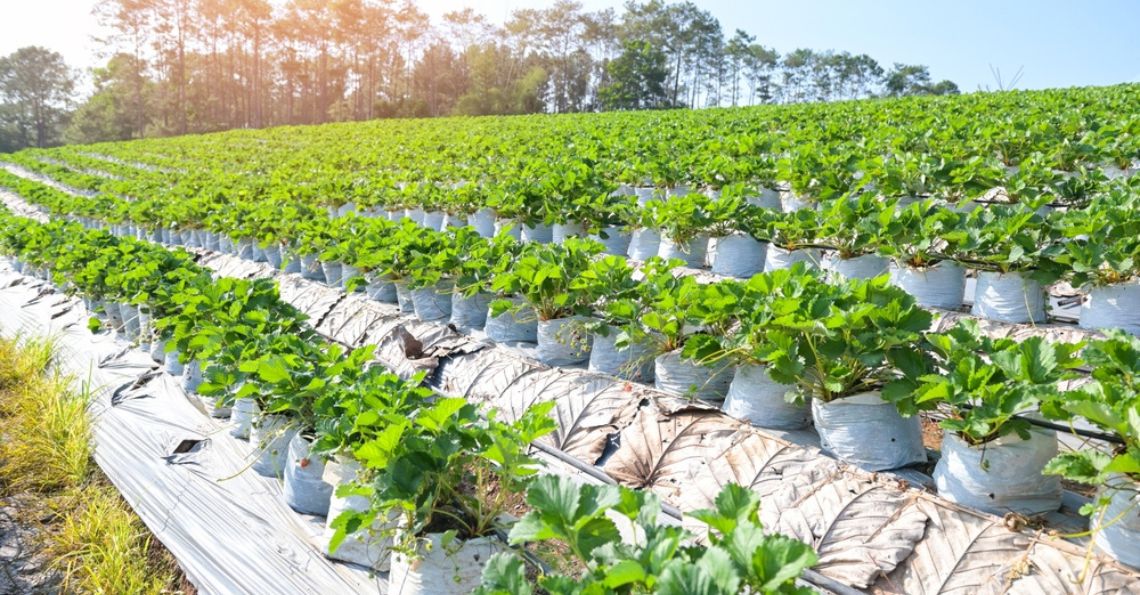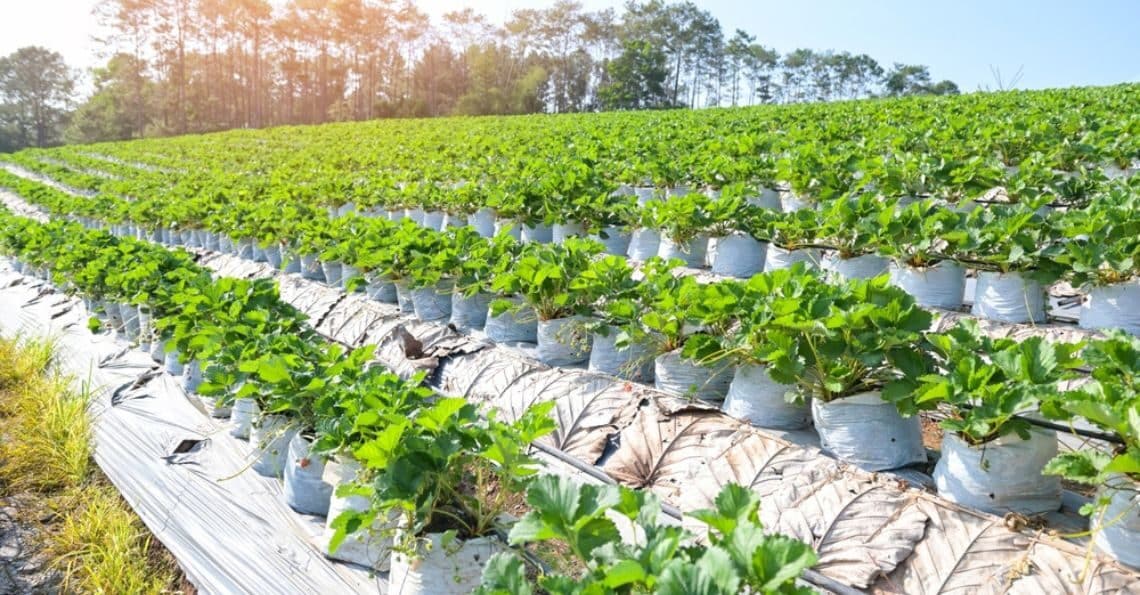 Strawberries are indigenous to temperate regions. This plant needs just 8 hours of sunlight each day for 10 straight days in order to bloom. The plant doesn't develop over the winter and stays dormant. The plant begins to grow and produce flowers in the spring as the temperature rises and the days lengthen. However, the strawberries that grow in subtropical regions can grow even in winter.
The strawberry plant requires a large amount of water due to its long root. It is vulnerable to drought because of its weak root system. Early autumn planting i.e. growing strawberries in the month of March gives the plant some time to develop healthy vegetative growth before the arrival of winter. Most of the water is obtained from the spring season when the strawberry is flourished. If the strawberries are grown in some state which receives minimal water, the farmers provide about 1 L of water daily to each plant in summer.
Pest Resistant and Fertilizers
Strawberries are sweet fruits that are attracted by many types of diseases and pests. Some diseases like black root rot, grey mold, leaf spot, leaf rot, etc. damage the strawberry plant. Some varieties of spiders and mites also attack the strawberry plant and inhibit its growth. You must provide some pest-resistant which helps in avoiding the attack of fungal diseases. You can also limit the water supply to stop the growth of fungi.
One of the Gardener's suggested that spiders, bugs and mites can be controlled by providing the plant with a small amount of Monocrotophos and Sulphur. The mixture is easily available in the nearby plantation stores of your location or you can also buy them online through Amazon and Flipkart.
Selecting the Right Variety of Strawberries for Your Location
Strawberries come in a lot of varieties. Royal Sovereign, Srinagar and Dilpasand are some common varieties of strawberry that are commonly grown in hilly regions. For North India, Pusa early dwarf is recommended which is smaller in size and requires less area to grow. Katrain Sweet is another variety that is mostly grown in outer parts of India. Sweet Charlie, Camarosa, Selva, Winter Down, Festival and Chandler are widely grown in Bangalore, Mahabaleshwar and some parts of Gujrat.
Step-by-Step Guide on How to Grow Strawberries at Home in India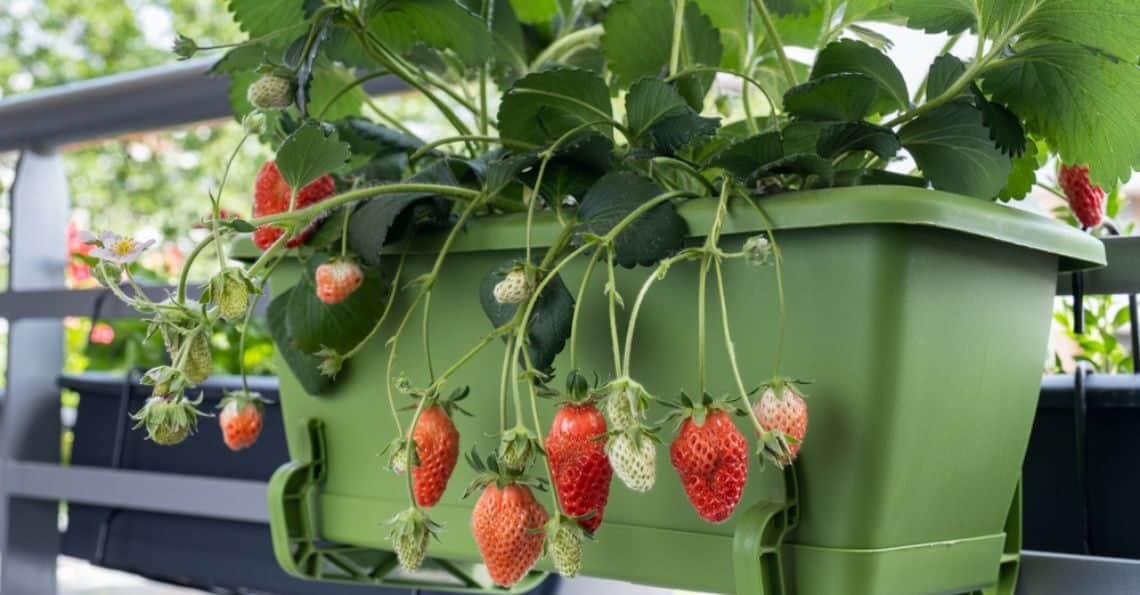 How to Care of Strawberry Plants in India?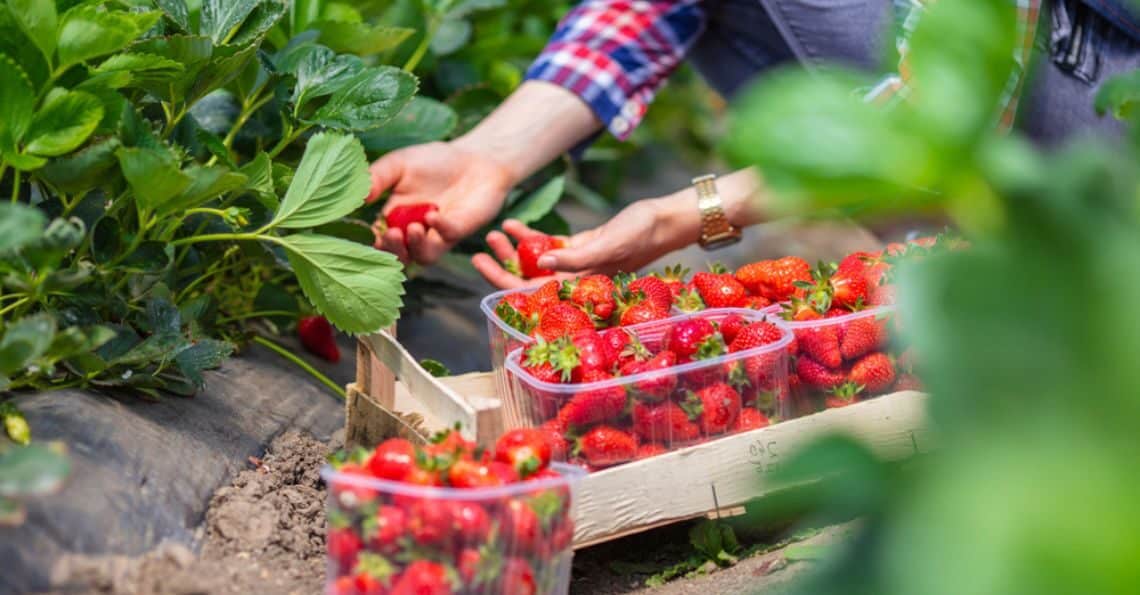 As much as it is important to remember the sowing factors of strawberries, taking care of strawberries is equally important. Growing as well as taking care of strawberry plants is very important and crucial. It requires a lot of maintenance and care throughout the year.  Some care tips you can follow are –
Harvesting Strawberry Plants in India
The fruit ripens in the plain areas from late February to early April and in high elevations like Mahabaleshwar, Nainital, and Kashmir, it is ripened between May & June. These are some important tips on how you can harvest, store and marketize your strawberries in India.
Strawberries are wonderful plants that can be grown in various parts of India. The strawberry growing season in India differs from place to place but generally, the crops are sown between March – June and harvested after the spring season. The climate requirement, temperature, water requirement, sunlight and soil requirement differ from place to place. In India, there is a lot of opportunity for expanding strawberry growing. The potential for income and profit from growing strawberries in India is enormous. India has excellent agro-climatic conditions that support the planting, development and harvest of edible and colored strawberries. You might anticipate favorable returns up to ₹ 8,00,000 against the amount of ₹ 4.6 lakhs if you follow the advice and factors mentioned above.
FAQ's - Related to Growing Strawberries at Home in India