Turtle Vine Plant Care, Grow Guide: Tips for Healthy Indoor Plants
Save Earth Life
Callisia repens, also known as Turtle Vine Plant is a wonderful plant that lies in the succulent plant category. The plans are widely grown in small hanging pots which gives your Garden a wonderful look. 
It is a popular indoor plant in India that belongs to the family Commelinaceae. The plant is generally native of South & Central America but they are also grown in India, Pakistan, Australia, Sri Lanka, and many parts of Africa. The plant requires little maintenance & care which makes it the most lovable for indoor gardening. 
The plant is classified by its Heart shape & shiny leaves that come in different shades of dark green, light green, violet and wine. The plant is widely known for its ornamental value & medicinal significance. It can be grown easily & can be spread up to 2-3 feet easily. 
In this blog, we will guide you through the wonderful Turtle Vine plants and tips to grow & care for this plant. Read the blog till the end & comment below on any problem you face while growing this evergreen plant.
| | |
| --- | --- |
| Scientific Name | Callisia repens |
| Hindi Name | कछुआ बेल पौधा |
| Plant Family | Commelinaceae |
| Common Names | Turtle Vine, Callisia repens, Creeping inch plant, Bolivian Jew, Basket Plant |
| Temperature to grow | 15 to 27-degree Celsius |
| Height of the Plant | 4 inches |
| Sunlight Exposure | Bright indirect sunlight |
| Grown in Region | South America, India, Sri Lanka, Europe |
| Height of the Plant | 3 to 8 feet tall in indoors |
| Flowering Season in India | Spring season |
| Popular As | Turtle Vine Plant |
We purchased a Turtle Vine Plant online which cost us an affordable amount. The plant turned out to be great. You can also purchase the same plant for spreading greenery at your home.
Click on the link to buy now! 
Evergreen Turtle Vine Plant Care
The turtle vine plant requires minimum care and can thrive easily in any environment. Some care tips you can choose to follow for your plants are – 
Turtle Vine hanging plant requires well-drained soil to grow. The plant grows well in soil between the pH of 5 to 6. The perfect soil or potting mix for the plant can also be developed at home.
Potting Mix – 3 parts of normal soil + 2 parts sand + 1 part perlite
These plants come under a wide range of succulents that do not require a lot of water to grow. However, you can water your plant twice a month to keep it growing. Also, regularly check if the soil is moist or dry before watering. Provide the plant only with a small amount of water such that it doesn't overflow from the pot.
The plants need indirect sunlight as they are popular as indoor plants. If you are growing it outside, you can place your plant below a big plant so that it does not receive direct sunlight. Place the plant on North- East side such that it only receives the morning sunlight.
4. Temperature Requirement
The plants grow well between temperatures of 15 to 27 degree Celsius. The plant should never be exposed to too much summer heat or winter cold for a longer time.
5. Fertilizers & Manure Requirement ​
Fertilize the plant during the onset of the spring season to help the plants grow easily. You must consider choosing a fertilizer that is specifically designed for succulent plants. We recommend a fertilizer that has all the qualities & desired nutrients to help grow the turtle plant. 
Buy the best fertilizer for succulent plants from Amazon – Click to View Price!
Pruning is basically done to help the plant grow and flourish. The stems & the older leaves of the turtle vine hanging plant is removed to let the new leaves grow. Pruning is done before the spring season with sterilized scissors to avoid any kind of infection. 
The best time for potting this plant is before the onset of the spring season. The plant generally doesn't require repotting but for your consideration, you can repot it every two years to help them get all the desired nutrients. During repotting you can replace the old pot with a new one to avoid any complications or disease. Remember the mature plant does not require repotting.
How to Grow a Turtle Vine Plant at Your Home?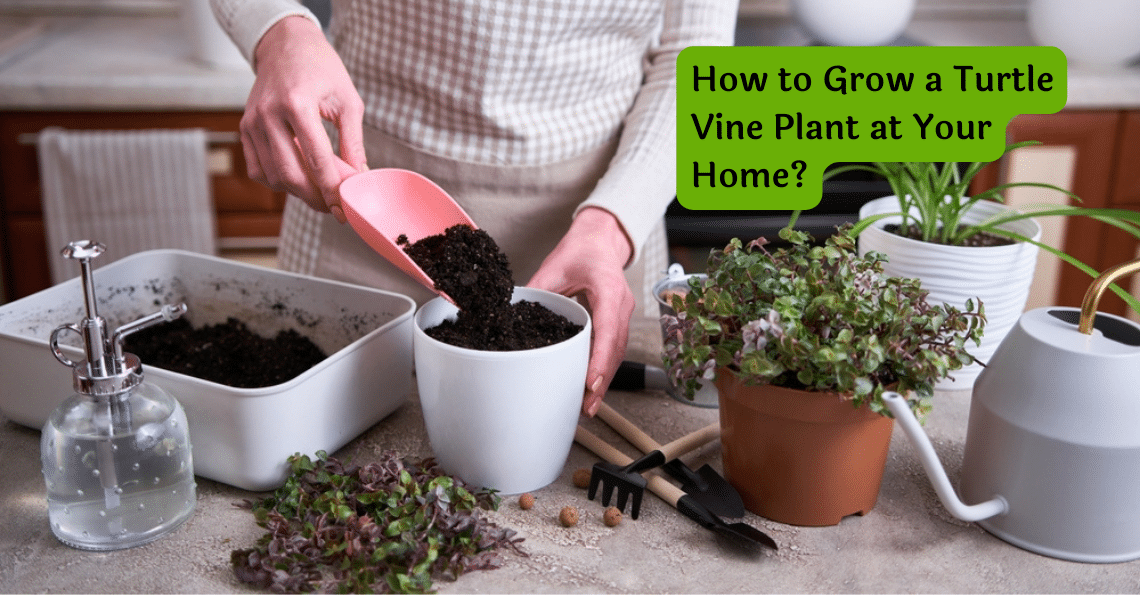 The Turtle Vine plants are easy to grow. They can directly be grown through the seeds which requires care and maintenance in the early period of plant life. They can also be grown through propagation (cutting) to make several new plants. 
Save Earth Life recommends buying a plant from your nearest or local vendors and then starting the propagation. You can also consider it buying from amazon which we bought a year back and the plant is still alive. Later, we started the propagation process and build almost 5 more plants from the parent plants. 
You can buy Turtle Vine Plant Online!
Tips to Consider Before Propagation
If you want your Turtle Vine Plant to grow easily you must consider some common tips before starting the propagation process.
Turtle Vine Plant Propagation Methods
Before propagation, you must be needing a few essentials such as – 
After collecting these materials, you can start the propagation. Follow these steps to propagate your evergreen Turtle Vine Plant easily –
Common Problems in Turtle Vine Plant (Pests & Diseases)
The most common pests & diseases a Turtle Vine Plant can get are –
Root rot is a common disease that affects various types of plants. It is mostly caused by overwatering your plants. Due to overwatering the plant's roots are attacked by some common pathogens which include Fungi & Bacteria. The fungus absorbs the extra water resulting in Root Rot.
How to Check Root Rot – Take the plant out of the pot and check the roots. If they are affected by root rot, the soil will have a mushy appearance, and the roots will smell bad. 
What to do – Avoid watering your plants for a few days or months. Remove the excess soil as the soil absorbs more water. Ensure that the pot has proper drainage available at the bottom.
2. Discolored Leaves (Yellowish Leaves)
The reason behind discolored leaves can be direct sunlight, excessive watering, excessive fertilization, or improper environment.
What to do – Avoid excessive watering and keep the plant away from direct sunlight. You can also avoid fertilizing the plant continuously. Prune off the yellow leaves and replace the location to help the plant grow again.
The spider mites attack the plant and damage the leaves. The bugs form a cotton-like web over the plant which prevents it from getting nutrients & air. 
How to check – The Spider mites make the lower side of leaves full of tiny brown and white spots whereas, the bugs can make a white cotton-like web over the plants. 
What to do –  To get rid of the spider mites or bugs, you can use a mixture of alcohol (Detol) + water and spray it over the leaves to avoid pests. 
Turtle Vine Plants Benefits
There are no such most important benefits of planting the Turtle Vine Plant but it is commonly used –
As you now know everything about the Turtle Vine Plant, you can now easily take care of it and propagate them to enhance the beauty of your garden. You can mention your comments below if you deal with any more problems while propagating the plant. You can also comment about any other plant you want us to write on!
We will personally ask the expert gardeners about your problem and reply with a suitable solution. Share this blog with your friends to tell them about the beauty and delicacy of Turtle Vine Plants.
FAQ Related to Evergreen Turtle Vine Plant