Buy Top 10 Lucky Plants For Office Desk As Per Vastu
Srishti Singh
It is widely said, "When you plant something, you invest in a beautiful future amidst a stressful, chaotic and downright appalling world." Yes, plants are your best companion if planted correctly at the right place. The office environment is such a place that is both chaotic and stressful sometimes. Keeping plants at your workplace can be beneficial to combat such environments. Both Feng Chui and Vastu Shastra, list some plants you can keep at your workplace. Here, we have listed the top 10 lucky plants for office desks to bring prosperity and positivity. 
Vastu plants for office bring positivity and are suggested to be planted in the right direction to bring happiness, wealth and good luck in your life. We have shortlisted the top 10 plants which you can buy and place at your desk to bring positive vibes while working. We have also provided the relevant link for these plants so that you can purchase them.
You can also comment below the blog and let us know what other kinds of plants you keep at your work desk to bring good luck. You can also let us know about any other query which you face while growing or taking care of these plants.
There are several reasons why you should consider keeping lucky plants at your office desk. Some of the popular reasons include –
10 Lucky Plants for Office Desk
If you want to give your workplace a lively and less stressful environment, you can keep some top 10 plants in India near your desk. According to Vastu Shastra, if these plants are planted in the right direction they can stand lucky for your use. So, what are you waiting for? Choose the best from these plants and keep it on your desk today! 
1. Bamboo Plant - Lucky Plant for Office
Bamboo plant for office desks is easy to grow plant but sometimes it needs minimal maintenance to stay strong. It is considered one of the best lucky plants for office desks. It is perfect for an office setting with a hectic and demanding work schedule. It brings fame and wealth to the person who has kept the plant near their desk. The color of the plant leaves brings positivity and an appealing look.
Snake Plant is the favorite plant preferred by the office employees. It requires minimum care and nourishment to grow. The plant can easily adapt to any environment to grow well. According to Vastu Shastra, the plant is considered a center of good energy and it is the only plant that is suggested to clean the toxic air inside the working environment. 
Jade plant is a popular houseplant that is also placed on the desk. The plant is said to bring a high amount of positive energy and financial success to the owner of the plant. It is easy to care and grow in any environment. The leaves of the plant appear very attractive and some people keep it at the desk to give the area an aesthetic look. 
The rubber plant is a great choice for keeping on the desk. It is easy to grow and can thrive in any environmental condition. The plant is said to purify the office space and increase the aesthetic look of the office. The rubber plant has bright green color waxy leaves which appear shiny and attractive when kept under lights. 
Another lucky plant for the office desk is Peace Lily. The plant is not only soothing to the eyes but is considered as very essential for luck and prosperity. According to Vastu plant for office, peace lily brings spirituality and enhances self-reliance in the employees. It eliminated the chaotic environment and brings a soothing effect with its white colour flowers. 
Generally, people think Aloe vera only has medicinal effects but rare people know that Aloe vera is a great choice for plants to attract love and money. It requires a very low amount of care so it is easy for office employees to keep it on their desks. The plant also provides calm and relaxation in a high-stress environment. 
Bonsai are beautiful small trees that are grown in small pots. Bonsai are really to tough and maintain and grow. They need several years for development but they are quite beneficial when kept on a desk. Bonsai helps in increasing productivity in the work environment. They bring a light and relaxing environment to the place they are kept. 
10. Holy Basil Plant (Tulsi)
The holy basil is said to be a plant that is denoted the goddess Tulsi. People say that the Holy basil plant has the blessings of goddess Tulsi who showers the people with good health and exposes poison from the blood. The plant also has the quality of reducing stress, anxiety and fatigue at the workplace.
Let's learn more about in detail growing and caring for these lucky plants for office desk.
Top 10 Lucky Plants For Office Desk
1. Bamboo Plant Care Tips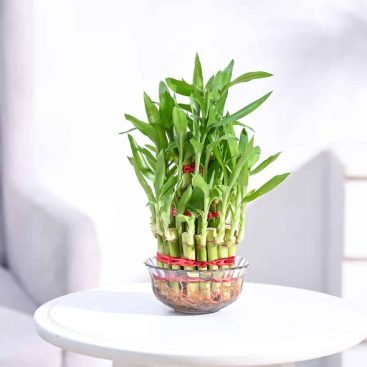 Bamboo Plant Growing Tips
The lucky bamboo on a desk can be grown either in soil or in water. People in India generally prefer growing the lucky bamboo in water. Make sure you have submerged 1 to 3 inches of the bamboo root in the water and keep changing the water every 2 weeks to avoid contamination. Prune the plant regularly and follow the care tips to let them thrive in any environment. 
Select a suitable container with proper drainage holes. Put the seeds in the pot and provide a small amount of water. Once the plants start to grow, provide them support to climb and grow. Remember to prune the plant regularly to enhance its growth. Follow the other care tips to keep your money plant alive.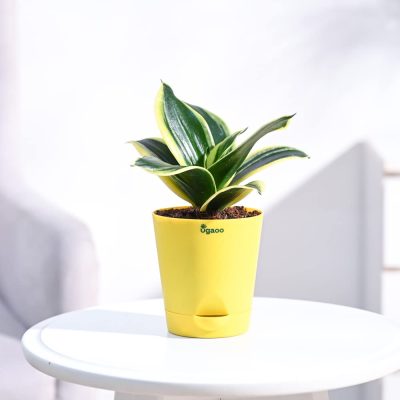 Take well-drained soil and cover it with sandy soil. Plant the roots about 2-3 inches inside the soil and water only 1/3rd of the pot size. Keep at a dry place away from direct sunlight and you will see new leaves coming out from the snake plant.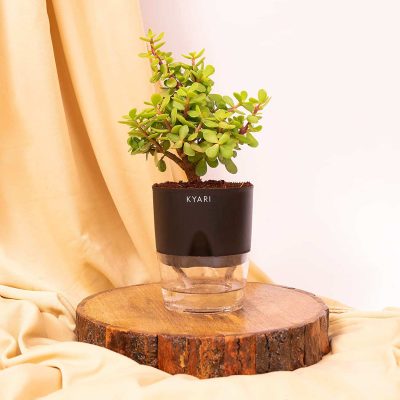 Grow the plants well in a well-drained pot. Water them occasionally and keep them in indirect sunlight. Fertilize the plant with a succulent fertilizer to help them thrive well in any environment.
Select a suitable place to keep a well-drained pot for areca palm. Submerge about 4-5 inches of root inside the soil and cover it. Ensure that you do not overwater or overfertilize the plant as it can adhere to some pest growth. Follow the care tips to help the plant thrive in any environment.
6. Rubber Plant Care Tips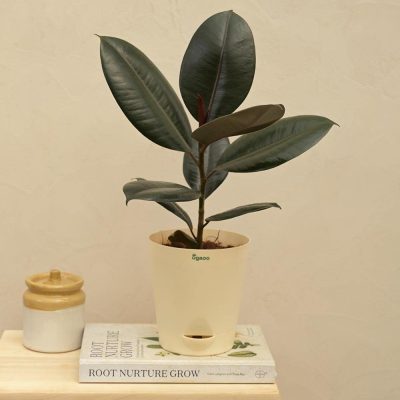 Rubber Plant Growing Tips
Choose a well-drainage pot and graft the seeds. Water slightly and keep them in indirect sunlight. You will observe roots growing out from the plant a few weeks later. Provide a small amount of fertilizer before the spring season to enhance the plant growth. Follow the care tips to maintain the plant throughout the year.
7. Peace Lily Plant Care Tips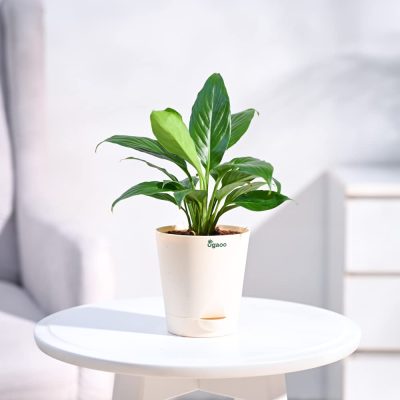 Peace Lily Plant Growing Tips
Take a well-drained pot filled with potting mix soil and plant the peace lily in such a way that 3-4 inches of the plant are inside the roots. Water a little and place them in indirect sunlight. Remember to maintain constant moisture without overwatering. Follow the care tips and let your plant thrive in any environment. 
Use a suitable pot along with the perfect soil mix. Plant the aloe vera and water a little such that the upper layer of soil is wet. Keep them in a shady area and provide a little amount of suitable fertilizer. After a few weeks, you will observe small aloe vera leaves with roots. Inspect the plant for pests in their starting month as they can easily attract certain diseases.
However, Bonsai is considered as the best plant but they are very difficult to grow and care. You need to insure the right place and the right amount of water, sunlight and temperature to grow them. But you can buy mature and evergreen Bonsai plants from offline shops or Online places & maintain them.
10. Holy Basil Plant (Tulsi) Care Tips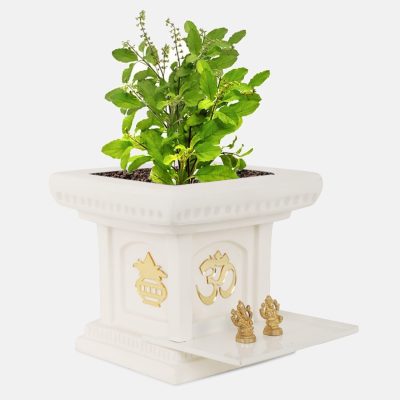 Holy Basil Plant (Tulsi) Growing Tips
Take a well-drained pot and spread the seeds of the plant to grow them. Follow the requirements of plants as mentioned in the care tips and ensure that the plants receive some amount of direct sunlight to grow and thrive wel
So, these are the top 10 lucky plants for office desks that you can keep near your desk for growth, productivity, good health, prosperity, wealth and a peaceful environment in your office. Buy these amazing plants and fill your office with a happy environment.
If you know some more plants that are your go-to partner in your office that brings you peace, you can mention them in the comments. You can mention any problem related to any plants you are facing and we will help you get the perfect answer to your problem by expert gardeners. 
Happy Gardening!
FAQ Related to Lucky Plants for Office Desk